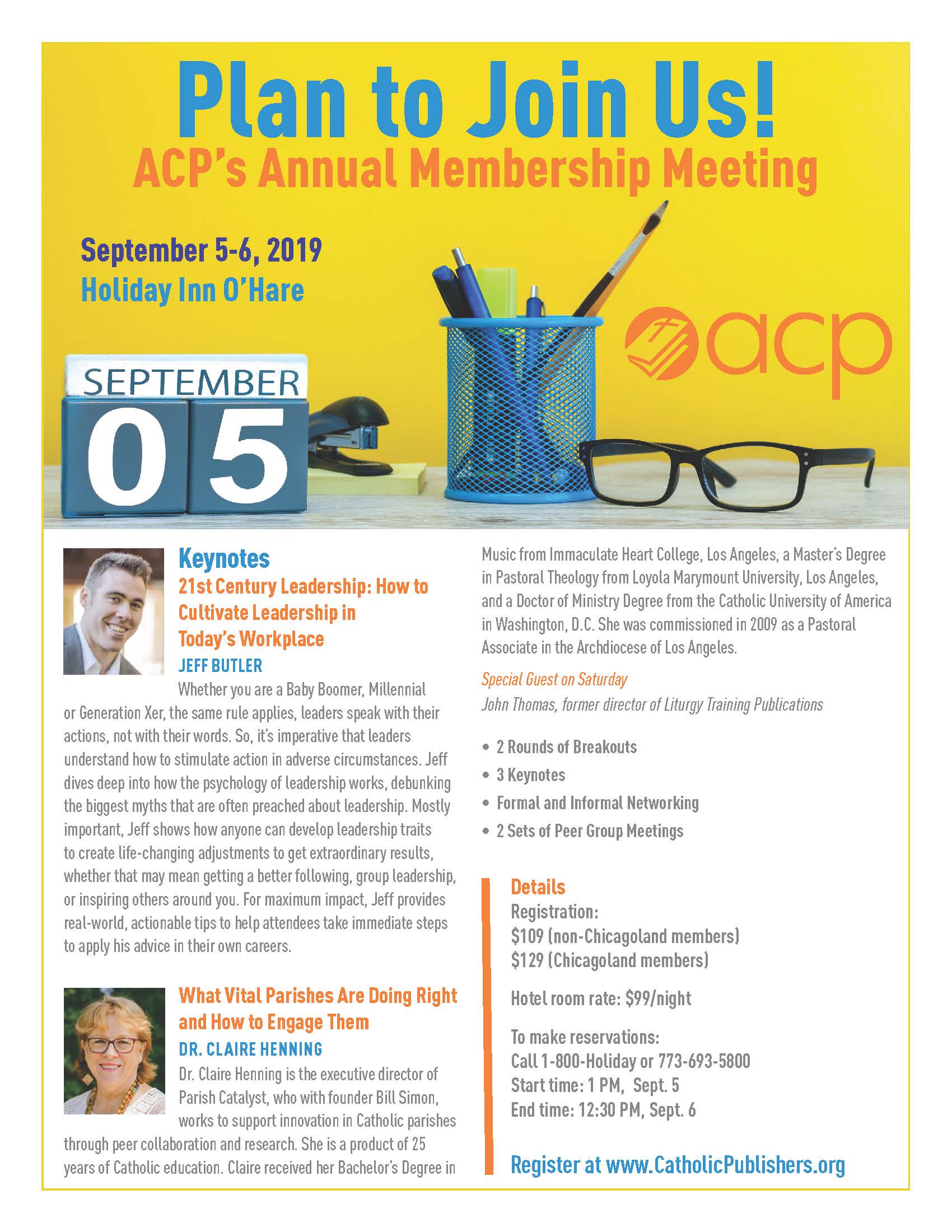 Join over 100 of your colleagues for formal and informal networking, professional skills development, and challenging and informative knowledge sessions!
Professional Development
Explore various topics in your area of expertise or general Church concerns during 2 rounds of breakout sessions and with our keynoters.
We welcome Jeff Butler, an internationally-known speaker and Millenial and multigenerational work expert, who will present on the topic of "Leadership Development in the 21st Century." Felipe "Flip" Sanchez, executive director of Parish Catalyst, will look at the challenges facing parishes today and the impact that has on Catholic pubishing.
Below is a list of the breakout sessions with speaker names and suggested peer groups in parentheses.
Breakout Sessions A (2:15-3:15 p.m.)
Follow Up on Leaders in the 21st Century— Jeffrey Butler (All)
Social Media— Shaily Hakimian (Marketing)
Can the Laity Save the Church? Yes. They Have Done So Before.— Michael Higgins (All)
Past and Future Changes in Religious Publishing— Emma Wenner (Editorial, Marketing, Heads of House)
Breakout Sessions B (5:15-6:15 p.m.)
Performance Management— Mari Chatman (All)
Sourcing the Next Generation of Catholic Voices--Greg Pierce (Editorial)
Writing for the Web to Improve Discoverability— Mana Ionescu (Marketing)
Follow Up on Changes in Parishes— Felipe Sanchez (Marketing, Sales, Editorial)
Networking
This year, we expand our organized opportunities for networking with professional peers. On Thursday, you will have the chance to gather with other staff members who work in your type of publishing--music, periodical, curriculum, to name a few. Or join in the first meeting of the Young Professionals peer group.
On Friday, there is another block of time for peer groups--Editorial, Marketing, Finance, Heads of Houses, Sales, IT.
We will also gather for a social and dinner on Thursday (cost is included in your registration) and lunch on Friday.