ACP Membership Meeting
ACP's annual gathering of members
2022 ACP Membership Meeting
Thursday, June 2, 2022-Friday, June 3, 2022
To those who were able to attend, thank you for joining us at the 2022 ACP Membership Meeting. For those who were not, you still have a chance to benefit from the wisdom and experience of the speakers and your colleagues.
Meeting Sessions
Below are links to handouts, slides, and video from the sessions during the event. Please feel free to share this with other members of your staff and industry professionals.
Summaries of the large group case study on diversity, equity, and inclusion (DEI) and role play on crisis management are also available. 
Summary of Crisis Management Role Play
Awards and Honors
On Thursday evening, we honored the new inductees to the ACP Hall of Fame--Anne Battes, Dan Connors, and Mary Beth Kunde-Anderson--and the recent recipient of the ACP Outstanding Service Award--Vinita Wright Hampton.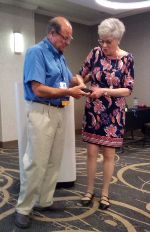 Mike Raffio inducted Mary Beth Kunde-Anderson from GIA Publications, Inc., after many years of service with GIA and World Library Publications.
Vinita Wright Hampton received the Outstanding Service Award for her many years of forming and mentoring authors especially during her time with Loyola Press.
---
We also honored Peter Dwyer who is retiring from his position at Liturgical Press. Hans Christoffersen shared his remarks with those attending the dinner